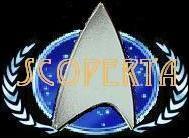 This is the site of the Uss Scoperta, a ship of the Deltafleet. It will tell you more about her crew and her self. The Scoperta is in a RPG PBeM group. If there is any problem with the site email the webmaster at:

scoperta@lycos.com





Everyone remember the victums of September 11th 2001.





News Summary:
The Scoperta is now returning to Earth after defeating another armada of Horogean ships. Repairs have been started and the crew is recieving medical attention.
Site made by: Chris Chaplin/ Lieutenant N'Vek, Chief Engineering Officer